I have been working on an Ohio Star quilt for Anya's bed (figure anyone who lives in Ohio should have an Ohio Star quilt or two in their house!). Constructing a quilt is a great visual example of exponential progression. Piecing the four tiny triangles into fairly small squares … you've still got a whole lot of tiny pieces. Strips of three squares put together were still a lot of small pieces. But, the quilt builds up rather quickly from there – strips turn into 3×3 blocks, then these blocks form three really large strips with a border fabric between them. Then border strips go in between the star strips to form the entire quilt top.
I had the final top pinned together and took a quick picture to share. Something didn't look right. Took the picture, folded up the project for the night, and went on to other things. Right before bed, I pulled the picture up again to send to my mom: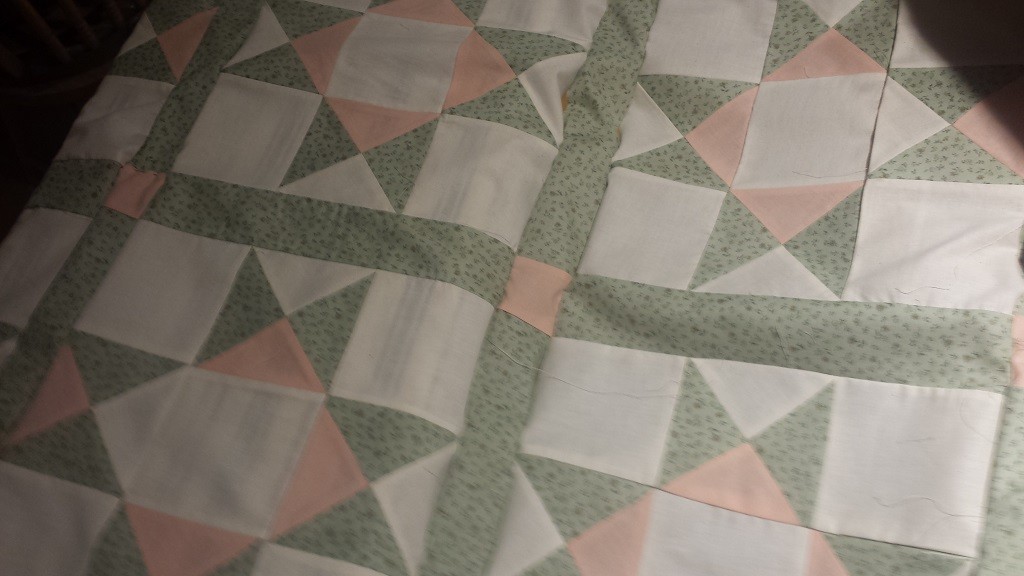 Something REALLY didn't look right … stared at it for a few minutes before I realized that two of my block-triangleblock-block strips were attached upside down! Instead of having a pink triangle along the center block, I have a white triangle. Looking back at the previous step, I do not know how I missed it: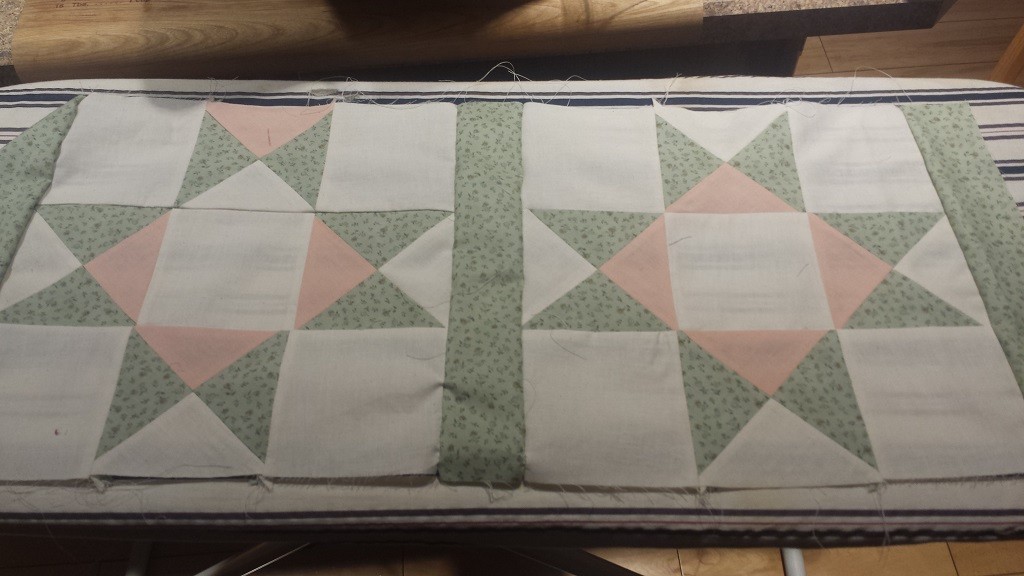 Evidently there is no historical basis for a humility block (an "intentional" mistake put into a quilt – sort of like small dead end roads used to copyright protect maps) … and, honestly, it always sounded like a defensive "I meant to do that!" kind of thing rather than a real "only God is perfect, so my quilt should have a flaw to avoid angering God" thing 🙂
My task for today is to rip out the two backwards blocks and get them stitched back into the quilt. Ugh! Very important lesson learnt — but all in all, not bad for my first quilt.