We volunteered to make the 'healthy snack' for the preschool class Halloween party again this year. We made pumpkin-shaped flat breads with carrot hummus.
Flat Bread Recipe:
4t active dry yeast
1t Penzey's roast garlic powder
2t Penzey's italian herbs
1t sea salt
1t sugar
4 cups all purpose flour
2T olive oil
1.5 cups water
1 large carrot, shredded finely
Combine all of the dry ingredients and mix, then add in water and oil. Kneed until it becomes a smooth and stretchy dough. Add carrot shreds and kneed to distribute throughout dough. Allow dough to rise until doubled (at least an hour).
Heat electric griddle to 375 F. Roll pieces of dough to ~1/8″ thick and cut with pumpkin-shaped cookie cutter. Cook for 2-3 minutes on each side.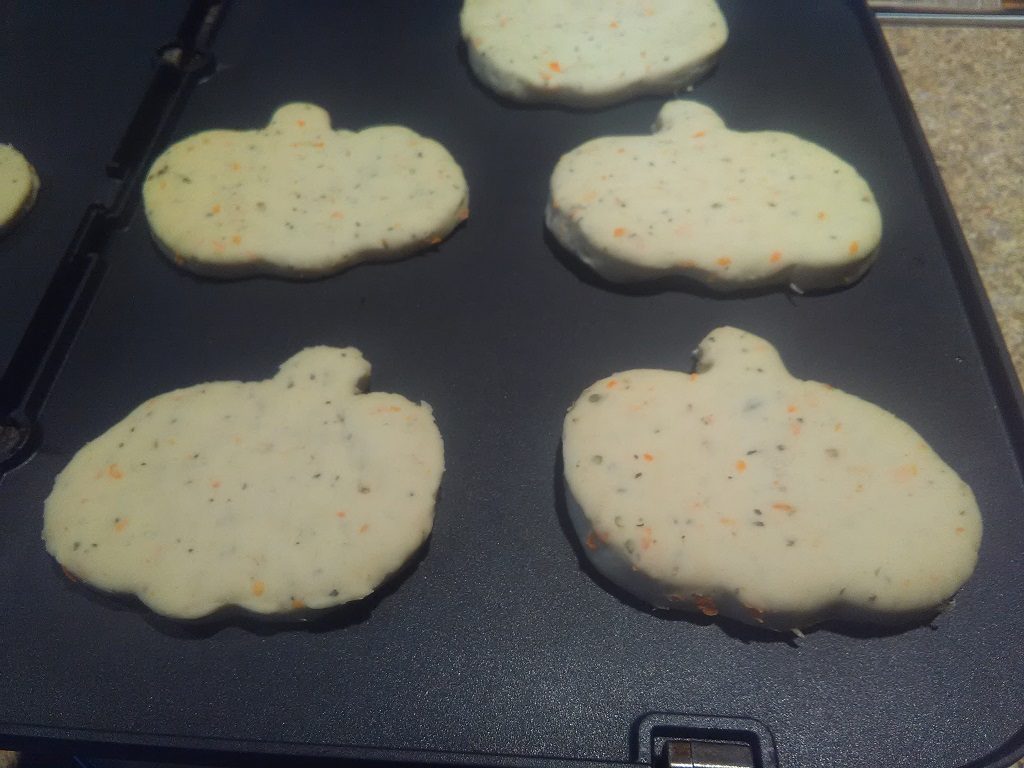 Carrot Hummus Recipe:
1c dried garbanzo beans – in a pressure cooker, add about 1/2 teaspoon baking soda, 1 teaspoon salt, and water. Cook at high pressure for 45 minutes. Add about a pound of carrots and cook for another 15 minutes.
In a food processor, combine 1/4c fresh lemon juice and 1/4c tahini. Pulse to combine. Fill with garbanzo beans and carrots, and blend until smooth.
We topped the flatbreads with the orange-coloured hummus to make pumpkin flatbreads: