Notes from the reverse osmosis system build we are planning:
Ideally, we run RO inside — lose 3% efficiency on RO for every degree drop, and systems are rated at 77 F. Is this bad for sap storage, though?
Multiple RO membranes connected in series ("dirty" out goes to next one's "in", "clean" out goes to fresh water collection). 3x or 4x membrane — more concentrated as fluid runs through each of the membranes. Diminishing returns, 3-4 max units.
Process:
Sap goes into rain barrel — need valve out from rain barrel. Sensor in sap holding tank and smart outlet for pump — turn off pump when tank is near empty.
Pumped from rain barrel holding tank to filter. Output from filter to input on first RO.
"Fresh water" output from each RO goes to fresh water holding tank (rain barrel). "Dirty stuff" output from each RO goes to input on next RO for farther concentration.
"Dirty stuff" output from final RO, the concentrated sap, goes into Digiboil (65L, ~17 gallons of liquid)
Little pump we use for brewing draws from Digiboil to fill boil trays on the burners.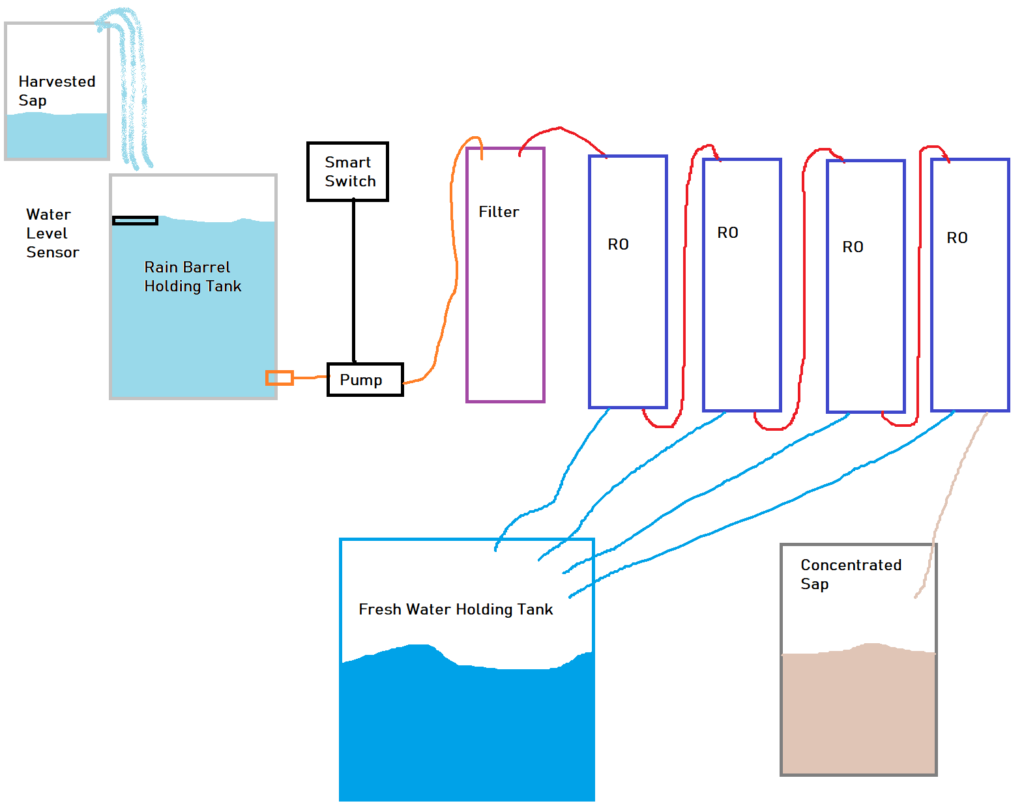 RO system:
Pump — need to compare this one and this $40 one.
Water filter housing Either with 1/4″ inputs or 3/8″ inputs  — prefer 3/8″
Water filter 10″ long x 2.5″ across filters — these look like they'd fit
RO membrane & housing combo but we can get replacement things from Ali for about $10
Connections:
Something from rain barrel to 3/8″ input on pump — GHT female and 3/8″ male
Something from 3/8″ output on pump to 3/8″ input on filter
Something from 3/8″ output on filter to 1/4″ input on RO
3/8″ tubing from rain barrel to pump, from pump to filter, and from filter to RO
1/4″ tubing to run between RO filters
1/4″ tubing from each RO to fresh water holding tank
1/4″ tubing from last RO to Digiboil