Sigh! Once again, Trump is the most lamentable victim of any persecution in history (including actual people who were bloody well burned alive as witches). Anyone remember people google-bombing Bush2 to link moron and "miserable failure" over to him? Algorithms can be used against themselves.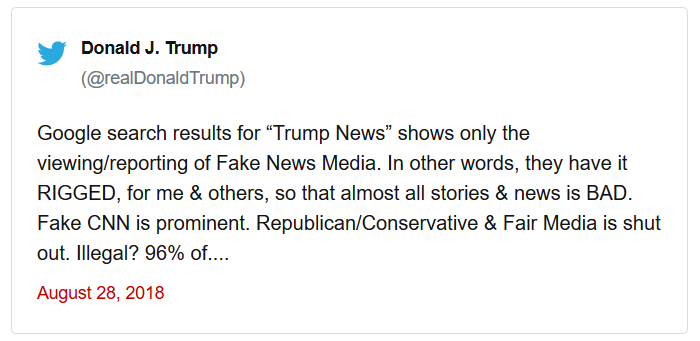 Singling out a specific feedback cycle that is damaging *to you* is a whole heap of hypocrisy (and thus neo-presidential). But Google's "personalized" news seems to be just as much a victim of commercialization as cable news. I don't get many articles that are complimentary of Trump. My husband does. Seeing information that substantiates your point of view is not a good thing for personal growth and awareness, but this is not a conspiracy. Just Google's profile of us — we're getting news that Google thinks we'll like. I know search results are personalized in an attempt to deliver what *you* want … so it's quite possible my search results will skew toward Trump-negative content (although as a matter of business, I would expect my husband's to skew toward Trump-positive content). I guess we all know what Trump clicks on and what he doesn't if *his* results aren't just a summary of the Fox News homepage.
And thinking about search engines logically — the "secret sauce" is a bias algorithm. Back in 1994, there was an "Internet Directory" — a alphabetized listing (maybe categorized by subject … don't recall) of web sites. It missed some. More importantly, though, there were not millions of web sites with new ones popping up every day, so I'm thinking the phone book approach to web sites might not work. If search engines crawled the Internet and returned a newest to oldest list of everything that contains the word … or a list alphabetized by author, page title, etc, … would you use a search engine??? Someone would have to write a bias search algorithm to work against search engine results. Oh, wait.