Join us on 20 March for any of the Buzzard Day activities: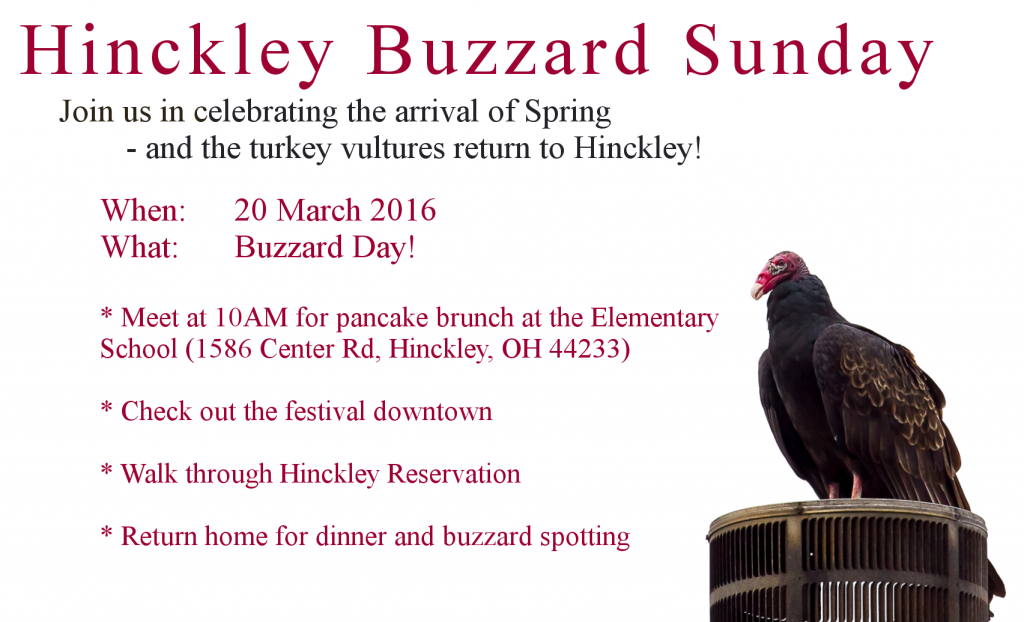 The arrival of the Buzzards at the Hinckley Reservation on 15 March is an annual occurrence. The Hinckley Township web site has a page detailing the history of this event.
Hinckley's Buzzard Sunday celebration is the first Sunday following the return of the buzzards — 20 March . Details about Buzzard Sunday can be found at the Hinckley Chamber of Commerce web site.
We plan to meet at the Elementary School at 10AM for the pancake breakfast and then check out the festivities downtown. Weather permitting, we can walk the paved trail around the lake; and we plan to grill some burgers for dinner.
Last year, many of the newly arrived vultures perched in the trees along our driveway. Near sunset, the group took flight and flew around our property and the park. We are hoping to capture pictures of the flight on our BloomSky. Even if you cannot make it to Buzzard Day, check out the BloomSky time-lapse movies to spot some Buzzards.
And for any early risers out there … at 7 AM on 15 March, the Hinckley Reservation has an official Buzzard Spotter at the Buzzard Roost. Maps of the Hinckley Reservation can be found at the Cleveland Metroparks web site. The buzzard roost is at the south end of the park, at West Drive and State Road. Since this is 7 AM on a Tuesday … we weren't planning on attending this particular event 🙂