My mom sent me a picture of a fantastic pieced skirt: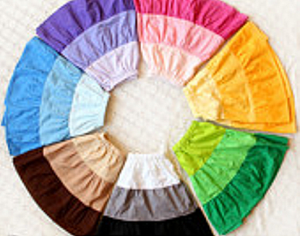 It is similar to a pieced chevron skirt that we had seen on Project Run & Play (http://alittlegray.blogspot.com/2012/04/pr-week-1-piece-by-piece-chevron-skirt.html) — but the sections are parallel to the seam instead of creating the chevron pattern. I saved the original chevron too — it is another skirt I would like to make for Anya.
I'm trying to figure out if it is feasible to make something like this for Anya. How much fabric would be needed?
I want to use a 3.5″ radius for the waist (~22″ waist so there's some gather at the waist and it can grow with her) and five color spectrum divisions. Which means each section is made at 72 degrees.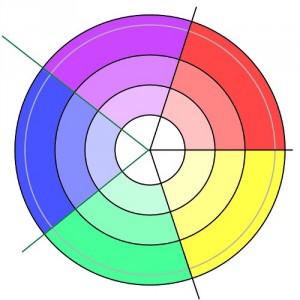 Then I need to figure out how large of a rectangle of fabric is going to be needed to cut these arcs.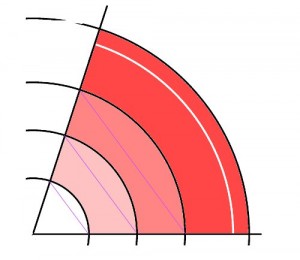 So the largest arc requires fabric 8″ high (well, a little more for the seam allowance) and 16″ wide (again plus a little for the seam allowance). So an 40″x18″ half yard is plenty of fabric – even enough for two skirts so I can send fabric along to my mom. We can both have a 20″x18″ rectangle. Now I just need to find a fabric with fifteen shades that I like — a reasonably priced fabric.
You know, when I learnt to use AutoCAD, I never expected that it would be my tool of choice when creating patterns for my kid's clothes … but the polar array made it so easy to section the circles!