I've got the rolled edge hem completed, and the sleeves are attached to the top:
I've also got the circle skirt hemmed (what a difference pressing the folds makes – my first circle skirt was OK … but the bottom hedge was certainly uneven. I now make the first fold, press, make the second fold, press, then stitch. The result is a nice even hemline).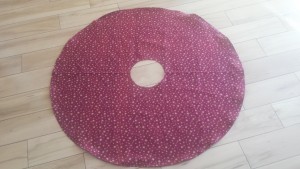 To give my mom an idea of what her finished dress will look like, I pinned the top and bottom together. And we almost have two dresses!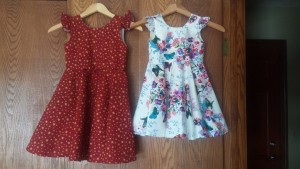 Aisha's back is not as deeply V'd as Anya's – two different options from the dress pattern.