I've started piecing together Anya's Pinwheel Dress — all of the pieces are cut out, and the strips for the bias tape are sewn together. I've got one of the bias strips folded and pressed too — so I was able to affix it to the bottom of the dress layer. Right now, the flounce at the bottom and the bias tape are pinned on so I could visualize the dress. I wanted a really simple white dress with a dark colored bias binding. The binding is a marbled maroon fabric, although that detail is completely lost in the photos. I don't know that the marbling comes across well in person either – we'll see.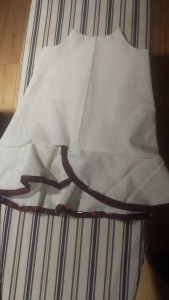 This is the hemline – both the dress and tunic have a similar hemline. When worn together, they create a two layer flounce.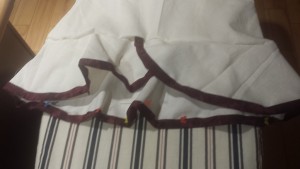 Here's a view of the trim with a little better lighting – it's a maroon fabric with a marbled design on it.