Well, our servers and network equipment have been unpacked, and it looks we are back online!
For Halloween this year, I made a cape for Anya's Little Red Riding Hood costume. The process came from http://www.doityourselfdivas.com/2013/10/diy-little-red-riding-hood-costumecloak.html – but I made a fully lined cloak instead of just lining the hood. As a result, I needed two one yard pieces of fabric. There is a real lead-free pewter cloak clasp too, it is just hiding behind her mouse.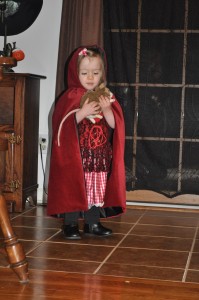 It turned out beautifully, and we even managed to get her to wear it long enough to take a few photos 🙂
It was not difficult to sew … Mostly a couple of straight line seams. I had a lot of trouble with the top of the hood – too much bulk sewn by machine. Two failed attempts and I just stitched it up by hand. This way, there is not a ridge of fabric on top of her head.
Another gratuitous cute kid picture: