The local paper had a reader poll asking if "the AR-15" should be banned — with a decent number (especially in our heavily Republican area) saying yes.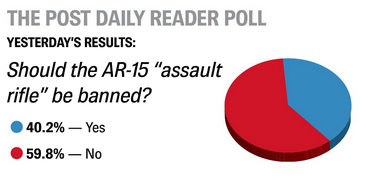 There are a number of things I don't get about this proposal. Firstly, I am willing to assume they mean any AR-style weapon because banning Colt's AR-15 but allowing all of the derivatives seems particularly pointless. But … what is the point of banning that one style semi-automatic rifle? From the police pictures, it looks like Tennessee shooter had a KelTec SUB2000 Carbine Rifle, a LSA Grunt .300 Blackout Rifle, and a Smith & Wesson M&P9 Shield EZ. Only one of those would be banned if AR-style weapons were banned, but any could kill a lot of people quickly. Even if the ban encompassed all high-capacity weapons, the Shield — with its 8 round magazine instead of the higher capacity magazines normally found in the two rifles … you can buy ten mags. Fill 'em up, and quickly eject the empty one & reload a full magazine. If we ban X, then Y will become the weapon of choice. OK, ban Y! Now it's Z. Or A. Or L.
And that doesn't take into account what's already out there today. In 2020, the firearm industry trade association said there were 19.8 million "modern sporting rifles" in circulation since 1990. Stopping the sale of new guns of a particular style seems like theater — an ineffective non-answer to the question. Even a far more effective idea like limiting all production weapons to five seconds per round still encounters the "what is out there is out there" problem. The idea of banning a style of weapon makes me think of the ineffective "fix" to the student debt problem — university is incredibly expensive. Forgiving the debt of a time-slice of students doesn't fix the fundamental problem.