Scott wanted oatmeal raisin cookies, so Anya and I found a cake made with oatmeal raisin cookie ingredients. It's incredibly dense, but moist and delicious. I topped it with maple butterscotch, and Anya decorated it with raisins.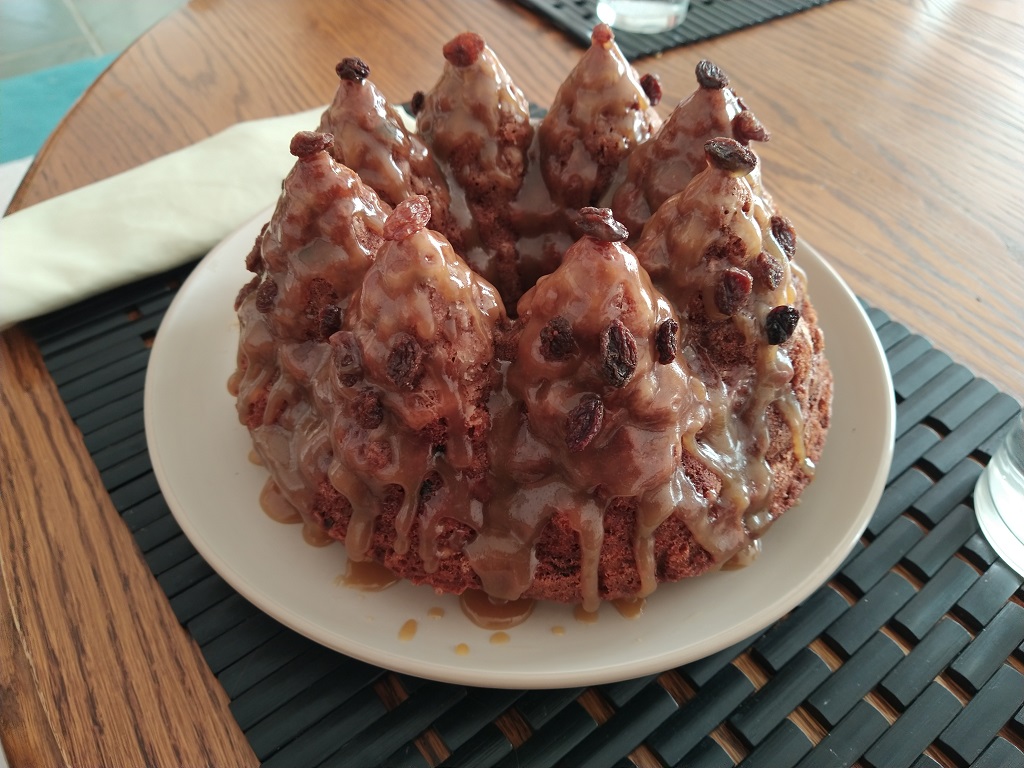 Print
Ingredients
1 cup mixed nuts, chopped (pecans, walnuts, hazelnuts, brazil nuts, almonds)

1 1/3 c boiling water

1 cup old fashioned oats

1 1/2 cup flour (white whole wheat or all purpose)

1 tsp baking soda

1 Tbsp cinnamon

1/2 tsp salt

1/2 tsp nutmeg

1/2 cup granulated sugar

1/2 cup brown sugar

1/2 cup butter, softened

1 tsp vanilla extract

1/2 cup Greek yogurt

2/3 cup raisins
Print
Method
Preheat oven to 350 F
Whirl mixed nuts in food processor so some chunks remain.
Combine boiling water and oats and allow to sit for 20 minutes.
Whisk together flour, baking soda, salt, cinnamon, and nutmeg.
In a large bowl, cream butter with sugars. Add vanilla.
Add eggs, one at a time, and beat well to combine.
Add in oatmeal, breaking up any chunks. Then add in yogurt and stir to combine.
Add flour mixture, a third at a time, and stir to combine.
Add nuts and raisins, then stir to combine.
Pour into a bundt pan. Bake for 50 minutes (add more time, in five minute intervals, if knife inserted into deepest part of cake pan does not come out clean). Allow to cool for 10 minutes and remove from pan. Cool before frosting.