My mom asked me if I'd make a dress for Aisha – she'd buy the pattern and fabric, and I'd provide the labor. It is a really cute pattern, and the size range is incredible. The dress pattern for Aisha's size 7 dress includes the size 4 that I use for Anya. I figured I'd make the same dress in a different fabric for Anya's Easter dress to give me some practice using the pattern (and my new serger!!!) before making something to give away.
Looking at the pattern web page, I really liked one of the fabrics pictured. I e-mailed their contact address and immediately was provided a link to the fabric. Bonus, it is on clearance. I looked at the "how much fabric do I need" chart and worked out how much fabric I'd need — rounded up because it's a fairly large print, and I wanted to have enough fabric to ensure I could get flowers and butterflies visible on the dress.
I printed the pattern — each size is a different layer in the PDF file, so you don't have a bunch of confusing lines intersecting. Awesome idea, one I hope more pattern designers implement. Once all of the pieces were cut out, I laid the dresses out just to get an idea what they'd look like.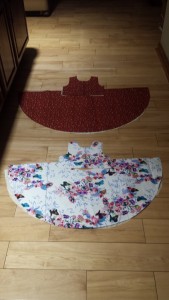 Getting the little sleeve gathered and affixed to the dress took a LOT of pins!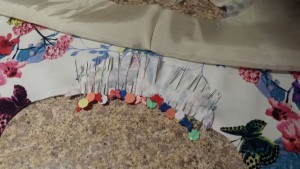 Stitched the front & back together, with the little sleeves sandwiched between the fabric and the lining … turned it right-side-out and we've got a dress top.
The bottom is a circle skirt – it gets attached to the bodice. I still need to serge the fabrics along the waist seam … other than that, the dress is done!
I think it looks awesome. And Anya loves wearing it – dancing around and spinning. And I've got her Easter dress ready to go two months early!
Realized, once I was finished, that I literally had enough fabric to make a second size 4 dress. I had added the "dress" yards and the "lining" yards together. D'oh! Feel slightly less silly because my mom did the exact same thing … There's not enough extra fabric to do both a size 4 and a size 7 … but there's plenty to make a skirt and the dress. Each girl is going to get a skirt from the other's left-over fabrics.