A few weeks ago, we watched an episode of Test Kitchen on PBS where they made Greek lasagna — pastitsio. It looked really good (and the idea of adding cinnamon to the sauce intrigued me). I finally got around to making it today — very tasty, although I'd prefer if the top had been less browned.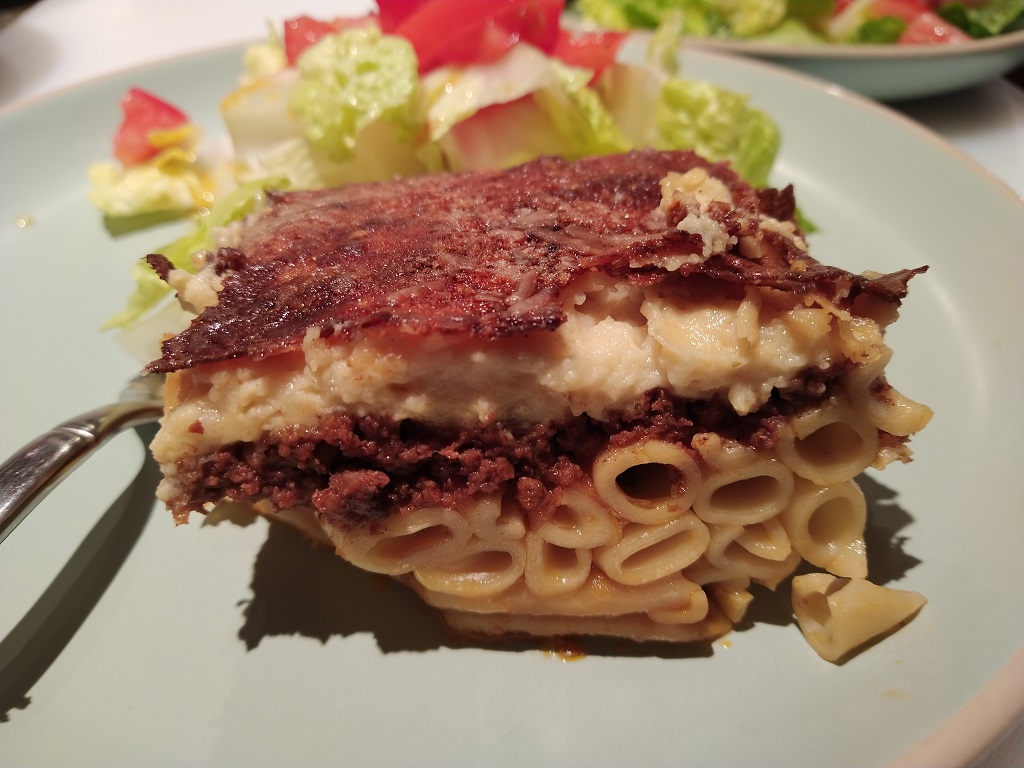 Print
Ingredients
3 lbs ground beef

1 large onion, chopped

12 oz tomato paste

1 Tbsp ground cinnamon

32 oz tube noodles — the authentic version of this recipe would use long ones

1/2 lb asiago (grated)

1/2 lb parmesan (grated)

4 eggs

8 Tbsp butter

1 cup flour

5 1/2 cups whole milk
Print
Method
Brown the ground beef in a large pan
Add chopped onion and sprinkle with salt. Cook until onions begin to turn translucent.
Add cinnamon and stir to incorporate.
Add tomato paste and stir to incorporate. Add 1/2 water to thin a bit, then simmer for three hours.
Place meat sauce into glass storage container and refrigerate overnight.
When ready to prepare lasagna, remove meat sauce from refrigerator and allow to warm up (or microwave for a minute or two).
Preheat oven to 350 F
Boil noodles according to package directions.
Melt butter in a large pan. Add flour to make a light roux, then add milk to make a béchamel sauce.
Crack three eggs in a medium bowl and temper with béchamel — then incorporate egg mixture into béchamel sauce. Cook over medium heat until sauce thickens.
Toss noodles with one egg and layer in bottom of a large baking dish.
Sprinkle 1/3 of cheese on top of the noodles.
Spread the meat sauce over the noodles, then sprinkle 1/3 of cheese on top of meat sauce.
Spread béchamel sauce over the dish, then sprinkle with remaining 1/3 of cheese.
Bake for one hour.