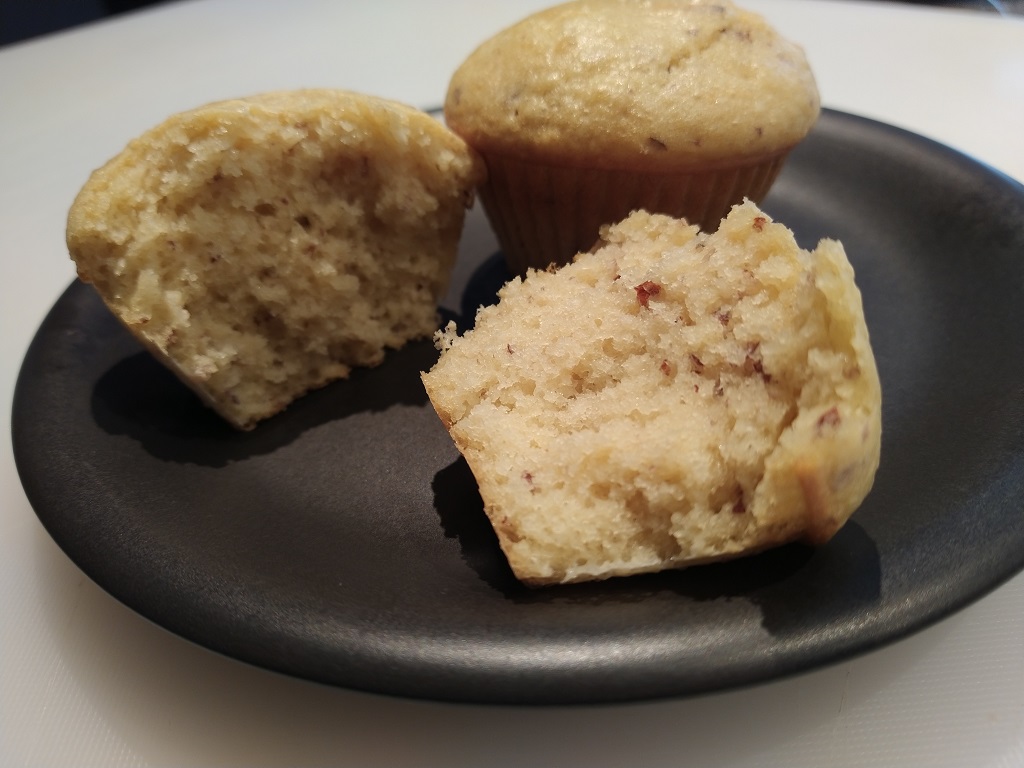 Ingredients:
1 1/2 cups all-purpose flour
3/4 cup almond meal from making almond milk
1/3 cup maple syrup
1 tsp baking powder
1 tsp baking soda
1/2 tsp salt
2 eggs
5 Tbsp powdered buttermilk
1 1/4 cup water
4 Tbsp melted butter
Method:
Preheat oven to 350 F — I lined the muffin tin with silicone cups. This made removing the muffins from the tin and clean up much easier.

Stir almond meal into flour and break up any clumps of almond meal.
Whisk in baking powder, baking soda, salt, and powdered buttermilk.
In a separate bowl, slightly beat eggs then mix in maple syrup and water.
Add wet ingredients to dry ingredients and stir gently to incorporate.

Drizzle in melted butter and stir to incorporate.
Divide batter into muffin pan.

Bake 15-20 minutes until a toothpick inserted into the center comes out clean.

The leftover pulp from making fresh almond milk was always a problem — I know you can dry it out and make almond flour, but that's a long process. I keep trying to find a tasty use for the pulp, and I think I've finally figured something out. These muffins were moist, buttery, had a bit of bite from the buttermilk … and a double batch would use all of the pulp from a batch of almond milk. Muffins freeze well, too — so we can have quick breakfast/snack food stashed in the freezer.