I've finished Aisha's dress — so we now have two completed summer dresses (just in time for the mid-February blizzards, evidently). Not much difference from before – it was pinned at the waist, and now it is stitched. I tried the top-stitching as written in the pattern (basically another line of stitching through both the skirt and the lining, maybe 1/4″ under the waist seam). I didn't like it – it looked a little off, and it drastically impacted the drape of the fabric. I serged the hem on both dresses and like the finished look a lot better. Serging in a circle is *not* something I do well – but since the seam is sandwiched between the skirt and lining fabrics … not like anyone sees the occasional overhang on the wrapping threads.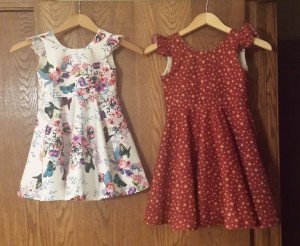 I really like the rolled edge hem here – I found out that a nicer hem was produced on the lower end of the suggested thread tensions. Surprised me quite a bit – I thought the higher tension would make more of a roll.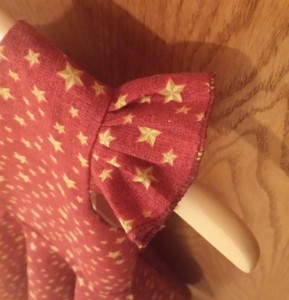 And here's the less V'd back detail – not a huge difference from Anya's deep V, but a little bit of a different look. I really like all of the options this pattern provides. Mom purchased the add-on pattern to put sleeves on this dress too – not sure that I'd want to wear an open-backed dress in weather cold enough to warrant long sleeves … but the back is pretty easily modified to something with a zipper or buttons.