We've got one raised bed completed — the soil raked out, blocks pretty much straightened (and all of the other blocks from the old garden beds have been transported to the new garden location, so we're ready to get more raised beds started)
That means it's time to get some plants in the ground — we brought the ten tomato plants and ten pepper plants that have been growing indoors since April 15th. I placed the tomato cages in the garden and set a pot inside each cage. Anya and I built the pepper cages (and then rebuilt the pepper cages because a few bent stakes + half a dozen in use to mark out the other bed locations mean I didn't quite have enough to build squares … but we got ten triangles). Then it was time to dig. Anya was excited to use the gardening tools I got her a few years ago (and even let me keep my trowel in her bag).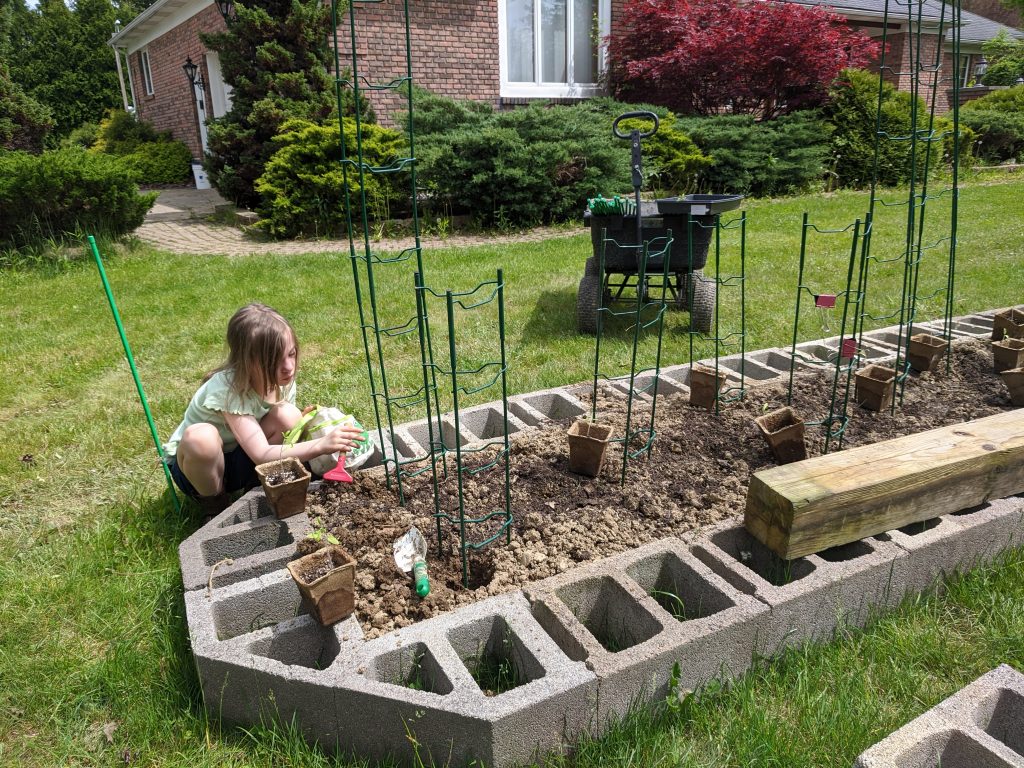 85-90 degree days probably aren't the best time to plant starter plants, but we had a couple five gallon buckets of water from the well and ensured the soil was nice and wet before planting. Lots of digging …
And still more digging … we have twenty plants outdoors.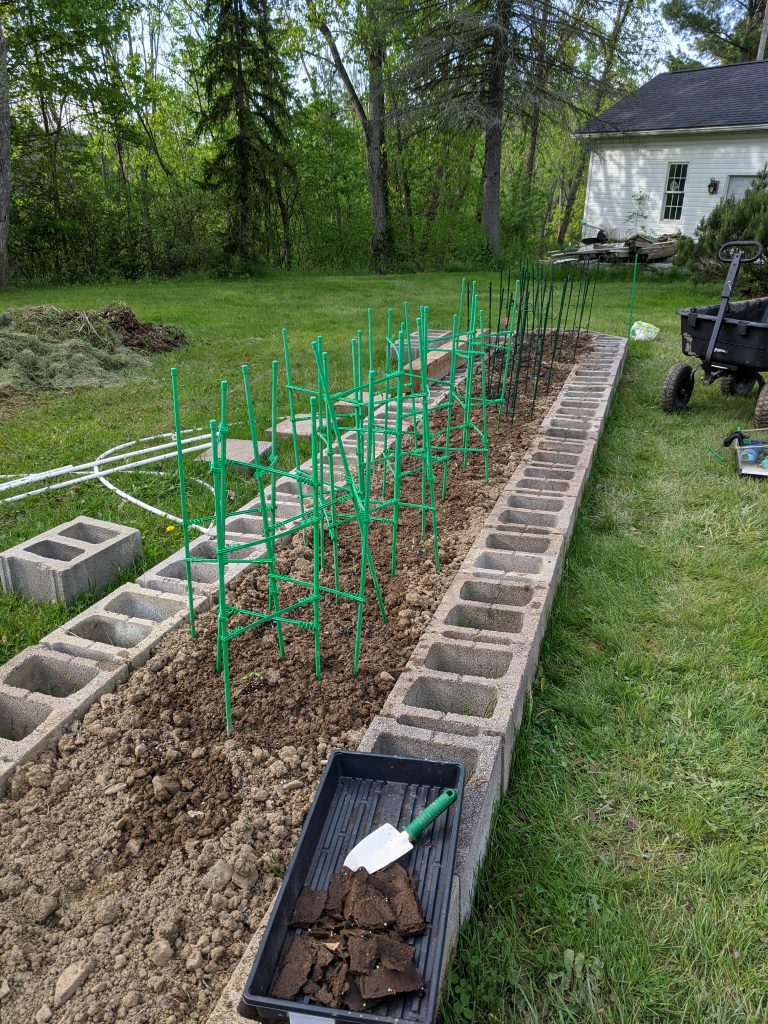 Since it's been so hot, I wanted to add some sort of mulch to keep the soil from drying out. About an inch down, it's moist and cool … but the top inch is getting very dry. I told Anya about the first garden Scott and I had in Ohio — a friend of his ran a greenhouse, and the friend's dad rented out plots of land for gardening. The guy's dad told us to plant our tomatoes really deep because the stems would actually root out and make a stronger plant. Figure the stems would root out better if they weren't in hot, dry soil!
We have grass clippings that I've been mixing with leaves from last year as I haul the leaves from the old garden beds (I threw a couple inch layer of leaves on top of the bed at the end of the season to act as a mulch until I was ready to plant again). But I've only got about half of our grass clippings incorporated, and the old garden is about 75% cleared of leaves. I've certainly got extra grass available. Now fresh grass can pull some nitrogen as it first decomposes — it'll return that nitrogen eventually — and it gets hot as it decomposes. I've intentionally sprinkled a thin layer of grass mulch instead of heaping an inch or three of mulch around the plants. Now we're ready to grow!