Anya's backpack is done! The embroidered eyes turned out really well, and his wings flap a bit as she walks.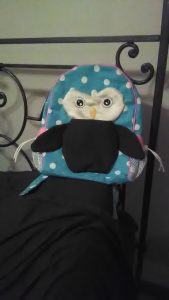 I think the piping turned out really well, and the side pockets work well (had a little bag of pretzels in there). I used little push button cord locks — Anya thinks they look like ladybugs. It'd be really cute if they made them in red with black dots to *really* look like ladybugs).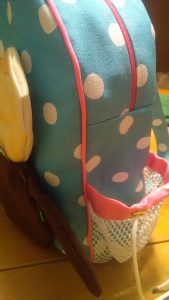 I moved the strap mount points – the bag didn't sit properly when the straps were attached at the seam between the semi-circle and the rectangle. Moving the straps up to the top seam had the bag hanging nicely off her back.