My inbox has 7,582 messages in it. This fact doesn't bother me at all because "Unread: 2" indicates what still needs to be addressed. I mark a message as unread to keep them in my "needs to be worked on" queue, so seeing thousands of messages in my inbox doesn't feel like an overwhelming pile of outstanding requests.

Some people move messages from their inbox – either deleting the message or sorting it into an appropriate folder – and, for them, the item count is their "needs to be worked on" list. My mom is one of those people – she gets a little stressed out just seeing the pages (and pages, and pages!) of messages in my inbox.
I mention this because it never bothered me that the Teams chat list is cluttered with the last 30 days of private chats, chats from within meetings, Planner notifications. Nothing is in bold, there's no activity indicator on the Chat tile … to me, that says "you're all done here".
But that's not true for everyone. Some people see the pages of conversation history and subconsciously see a bunch of messages they still need to address. Or they see clutter — "when you're done with it, put it away" and this isn't away! If you don't like to have dozens of finished conversations hanging out for a month, you can hide them. Hiding conversations does NOT delete the messages – if you receive a new message from the individual or address a new message to them, your previous chat history will still be there. Hidden chat messages are still displayed when you search for information. But hiding chats reduces the number of "recent" conversations displayed in Teams.
To hide a conversation, move your mouse over a listing and click the ellipsis which appears.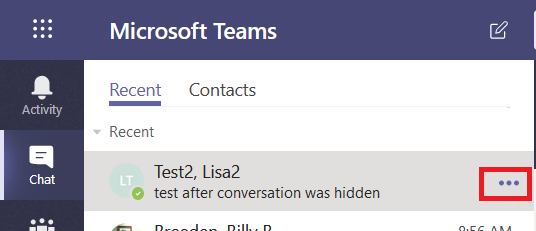 Select "Hide" from the menu.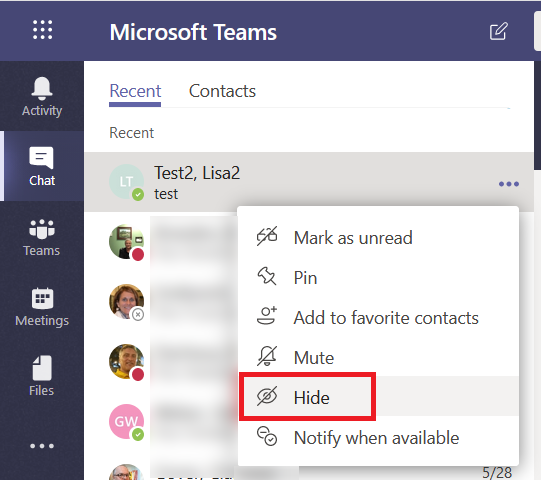 The hidden chat record will no longer be listed in your recent conversation history. Repeat as needed with the rest of your chat history.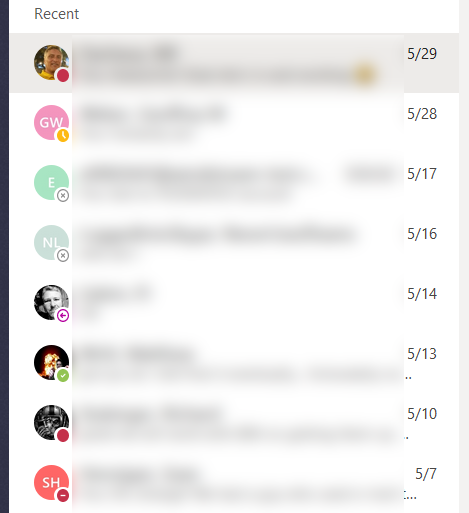 If the person sends you a new message, you will see an activity indicator on the "Chat" tile and the conversation will pop back into your recent conversation listing. If you address a new chat message to the person, the conversation will pop back into your recent conversation listing. You can hide the conversation again when you've finished the discussion.