There were a few organizations set up to "federate" with Skype for Business – from your Skype client, you could send messages to their Skype for Business account. This will continue to work when you move to Teams. Microsoft calls each company's Office 365 environment a "tenant" – you are able to send messages from Teams in our tenant to a federated partner's Skype or Teams in their tenant.
** If your account is upgraded to Teams Only, messages sent from federated partners will be delivered to you in Teams. Otherwise messages sent from federated partners will be delivered to you in Skype.
To chat with a federated partner, simply address a new chat message to them. The "We didn't find any matches" message lets you know there wasn't anyone found in our organization. Click to search for the account externally.
If you get an error indicating that the conversation cannot be set up, you may be mistyping the address. It is also possible that the organization is not on our list of allowed federation partners.

If their organization is on the allowed partner list, you'll be able to start a new conversation. Along the top banner, there are a few indicators to ensure you realize you are sending information outside of our organization. Messages sent to external recipients transit Microsoft's Skype/Teams interop gateway. Anything that is not supported through the interop gateway – screen sharing, file sharing, multi-party chat, rich text messages – will not be available when you are chatting with an external recipient.

The other person will see your message in their Skype or Teams application – if they've been upgraded to Teams Only, the message will be delivered to them in Teams, otherwise it will be delivered in Skype.

Teams expands on Skype's federated messaging functionality – accounts from allowed organizations can be "guests" in our Teams. This means vendors can participate in collaborative discussions and access shared documents without having an "n99" account with an Office license. Federated partners can add you as a guest in their Teams spaces too.
Team owners add guests the same way they add internal Team members.

When you type the guest's address, it will not match any records in our tenant and the option to add them as a guest will be displayed.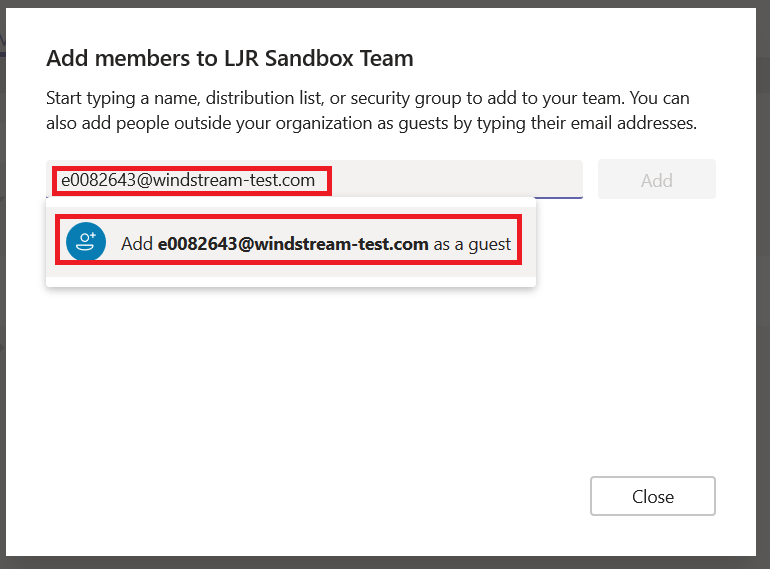 Once someone has been added as a guest to a Teams space, there are two ways you can send them chat messages – the external account and the guest account.

What's the difference? Where the "external" listing delivered your chat message to Skype or Teams (depending on the individual's account configuration) in the other person's tenant, "Guest" will deliver the chat message to Teams within *our* tenant.
Good news – that means you can use features that aren't supported through the interop gateway. Bad news – the person may not check our Teams tenant regularly to see if there are new messages.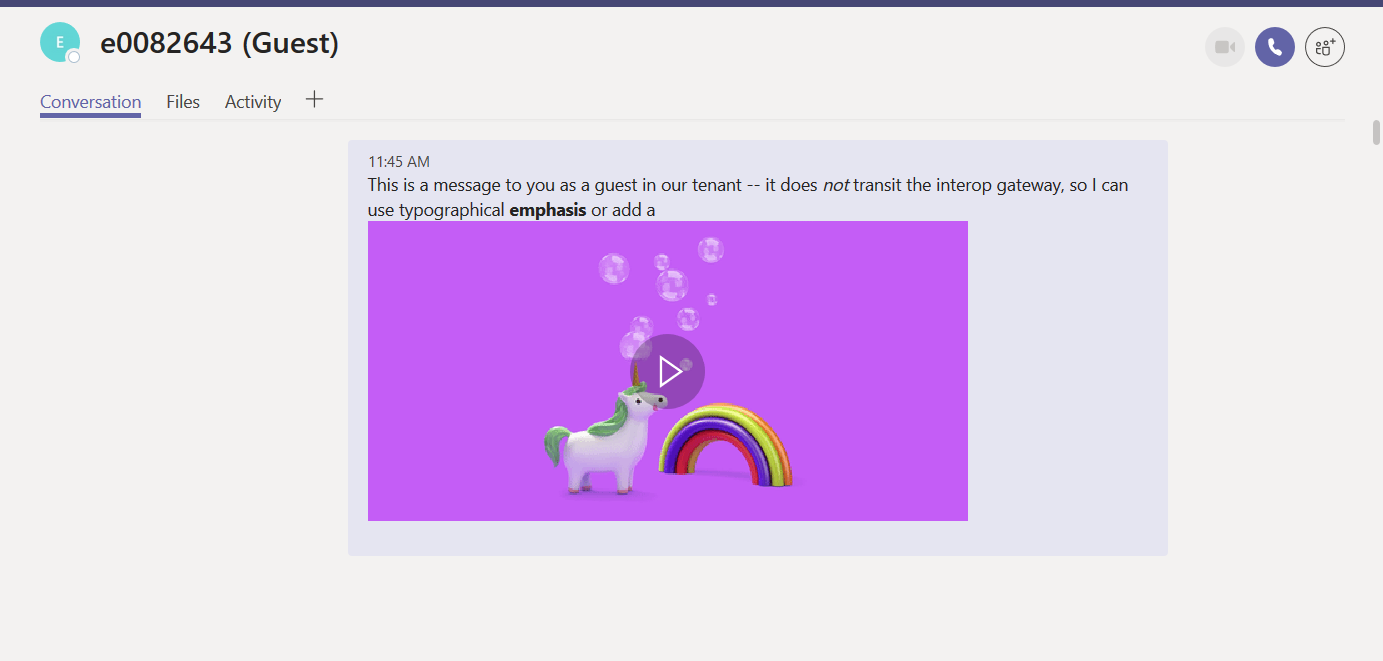 A person added as a guest to our organization will see a drop-down tenant selector next to their avatar in Teams. They'll be able to click the drop-down and switch contexts to our tenant.

They will be able to see our Teams … well, the ones of which they are a member anyway!

They'll also see chat messages sent to their guest account.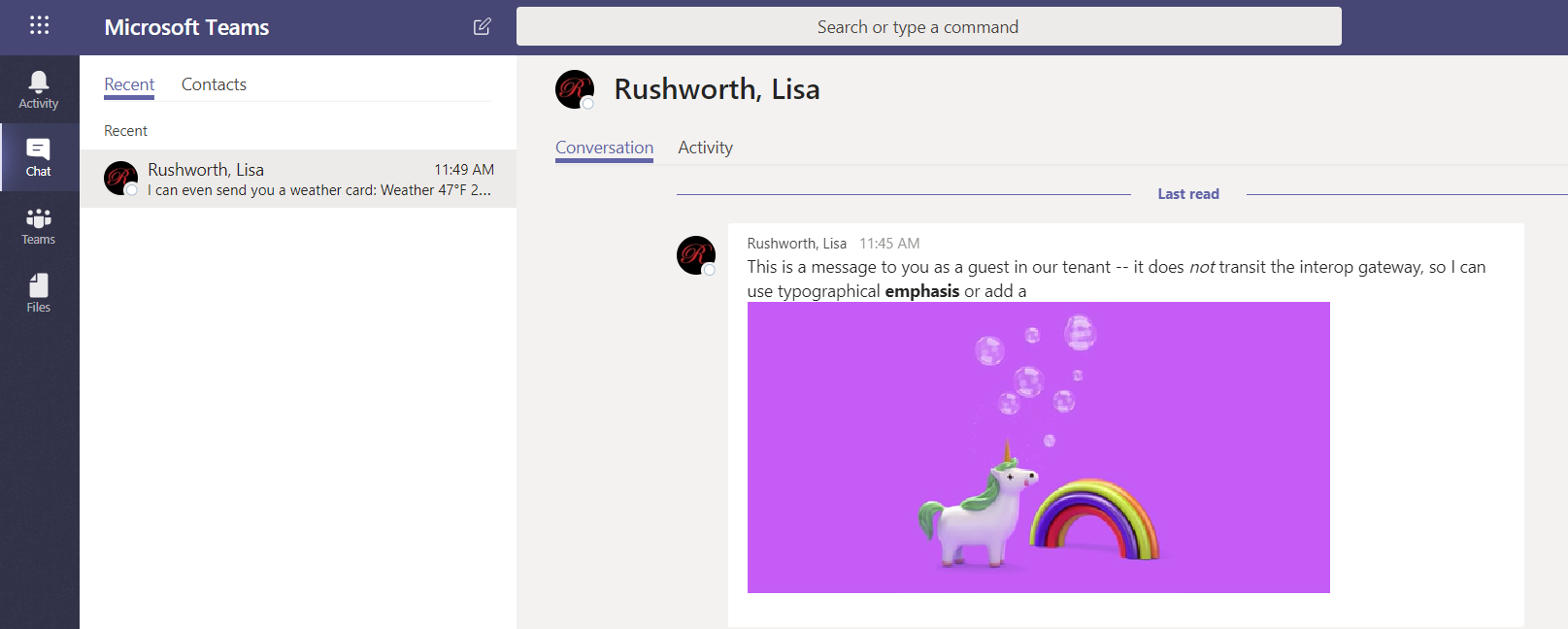 You may notice that the person appears twice in your chat history – the guest account in our tenant and the external account in their tenant are separate entities.

How will the person know they've got messages waiting for them in our tenant? A message count indicator will appear on the tenant selector. If they're a guest in multiple tenants, clicking the drop-down will show them how many new messages are in each tenant.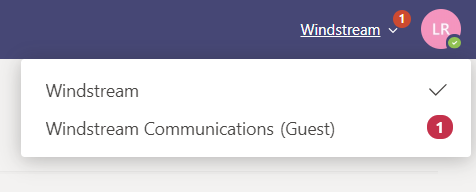 Usage Tip: This notification isn't immediate (and sometimes the notification is significantly delayed), so time-sensitive communication should be sent to the 'External' listing instead of the 'Guest' one.
Warning: Conversations and documents in our tenant are under our purview. This means we can restore access if data becomes orphaned, our retention policies apply to the data, documents and conversations will be included in legal discovery activity, etc. Activity in partner tenants are under their purview. Be cognizant of communication and file content before storing information outside of our tenant.