Anya wants a sewing machine — and while I try not to be a crazy overprotective "everything is going to kill you" mom … well, high speed pokey things coming at little fingers kind of freak me out. I kept her request in mind, though. Then this month's Nancy's Notions catalog had a finger-safe plastic foot in the front cover, complete with a young girl using the machine. That is exactly what I didn't know I needed. So I set out to research a good beginner sewing machine for an almost five year old kid.
There appear to be two paths – a quasi-toy with a lot of safety features and simplified operation or portable sewing machines that are riskier to use and can be frustrating for few sewists. The deciding factor for me was the device's useful life. I don't want to buy something that will need to be replaced in a year or two when she's more experienced in operating a machine. And I figure it's best to learn everything at once rather than add the foot controller later — a bit like learning with a manual gearbox v/s learning with an automatic and then having to un-learn some bad habits that weren't bad habits on an automatic. Plus Anya knows when we have a 'real' one and she's got a 'fake' one for kids. I decided on the Janome Derby – a little five pound machine that has several stitch options. Happened to find it for sale at Michael's for 60$ and they had a 20% off almost everything coupon — 51.60$ including tax!
I wanted to come up with some sewing practice for her, and I found a printable 'sewing maze' online. Such an awesome idea – you haven't "ruined" a project if you don't sew exactly on the line. I printed a few copies for Anya (and a few for me). I could not find anything similar to practice sewing curves. Longer than I'd like to admit figuring out how to get Photoshop's curvature pen to make a shape instead of a light blue ghost that doesn't actually show up anywhere. (Once you've selected the tool, you have to change the 'stroke' setting from the white with a red line through it to, well, something. I nulled out fill, but I do not know if that was necessary.)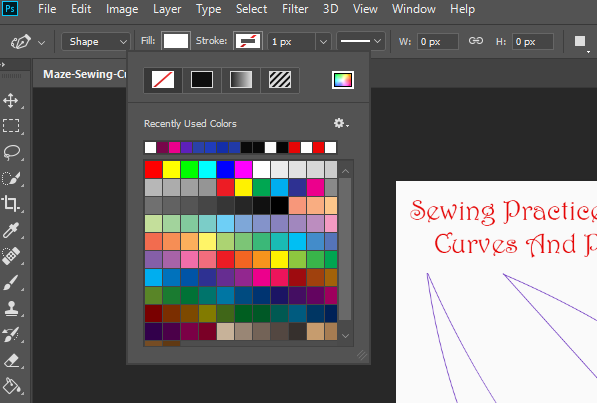 Once I could draw a smooth curve that prints instead of a fully printable squiggle or a lovely curve that disappears when you print or export, I have my own sewing practice sheets for curves and points! Now I just need to think of a cool project to do next.