WooHoo! The sun hat crochet along finally reached the pattern stage! I used the same cream coloured yarn for the main hat, but have a slightly iridescent light green yarn for the accent. I'm thinking about making Anya's hat in reverse – using the green for the main yarn with cream as an accent. Partially because I don't like having the exact same thing and partially because inverting the colours uses the yarn more efficiently (otherwise I am going to have a heap of the accent colour left over!)
Round four completed: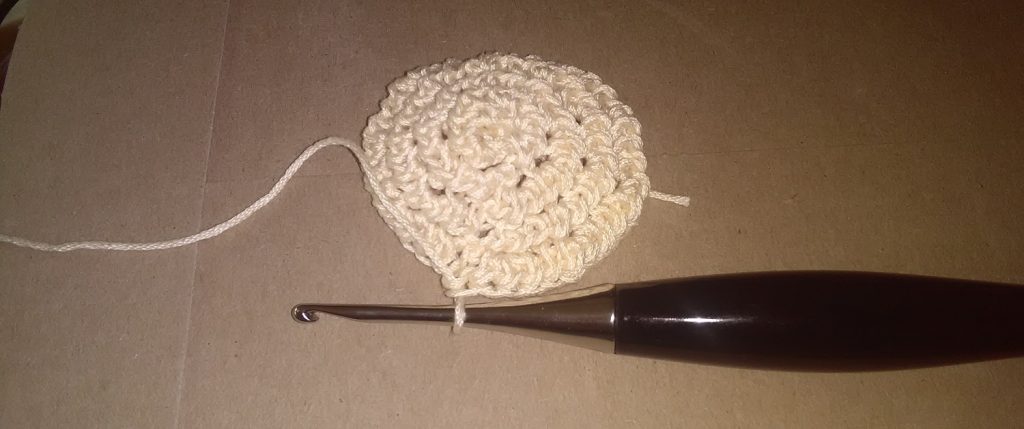 I have trouble keeping track of the start and end of rounds — not a problem unique to this pattern, Anya's star blanket was just as tricky for me. Easy enough to re-count the stitches on early rounds — and frogging a few stitches isn't such a big deal. As the project progresses to the point where a round comprises 40 or 50 stitches, adding or missing a stitch is a pain to correct. I've tried using those little round stitch markers, and honestly I just don't get it. If they had splits in the rings and could easily slip back off of the project … that would make sense to me.
I've come up with an easy method to keep track of rounds — a water soluble marker I use for marking dress patterns. Test it on your yarn to make sure it comes off completely (and mark in an inconspicuous spot just in case). Which stitch it makes sense to highlight will vary by pattern. Here, the chain stitch which starts each round does not count as the first stitch. I chose to mark this 'skipped' stitch. The round should end immediately before the marked stitch, and the first hdc from the round into which the last hdc is slip stitched is immediately after it. Chain one and mark again. See the little blue marks on the "inside" of the hat? Those are my ch stitches. Voila, two rounds without frogging anything 🙂