I got lucky when I got the laminated bird fabric for Anya's book bag — it wasn't super expensive, it is really cute, and it has a thick lamination. Since then, I've not been able to find much in the way of laminated fabric. I don't want all of her stuff to have the same fabric. So I've been experimenting with the laminate-your-fabric iron-on stuff. I've used ThermoWeb's Heat'n Bond and Pellon 100 Vinyl Fuse. Neither are as thick as the lamination on the Robert Kaufman Slicker line, which is a bummer since that's really what matters. TL;DR: I like the ThermoWeb better, but not enough that I'd pay extra for it or go out of my way to find it.
I bought these as yardage, so the precut and boxed lengths may be different. The Pellon paper has no print on the back, whereas the ThermoWeb has a grid print. Didn't think I would care either way, but since *most* of my pattern pieces were integer inch rectangles, I was able to cut the ThermoWeb without trying to clip the fabric to the laminate. Since the point of laminating fabric is to make it waterproof, poking holes in it seems like a bad idea. The melting process seems to have eliminated the pin holes, too.
Both products work the same way — it's paper backed vinyl. They both claim to be sticky to help with placement on the fabric, but beyond being slightly rough and plastic (hence a higher coefficient of friction than polished plastic) they're not like sticky adhesive sticky. Cut your shape, peel it off the paper, overlay your fabric, place the paper on top of the vinyl, and apply heat with an iron (no steam!). Voilà, laminated fabric. Since my pattern has two of every piece, I placed one paper backing (smooth side up) on the ironing board. Then the fabric, right side up. Then the laminate, again right side up, and smoothed it out with my hand to minimize wrinkles and bubbles. Topped it all with the other paper backing, smooth side down. Doing this, the laminate could be slightly bigger than the fabric piece without fusing to the ironing board 🙂
When ironing, the Pellon smelled like melty petro-chemicals. Didn't smell anything with the ThermoWeb, but my sense of smell is really terrible so it's possible both smell when heated. One other thing I don't care for with the Pellon vinyl — the laminated fabric curls. Kind of a lot — I'm putting it all under my cutting mat for the night to see if it straightens out. I'm sure it will be fine once I start sewing it, but it's certainly not stacking nicely on my desk!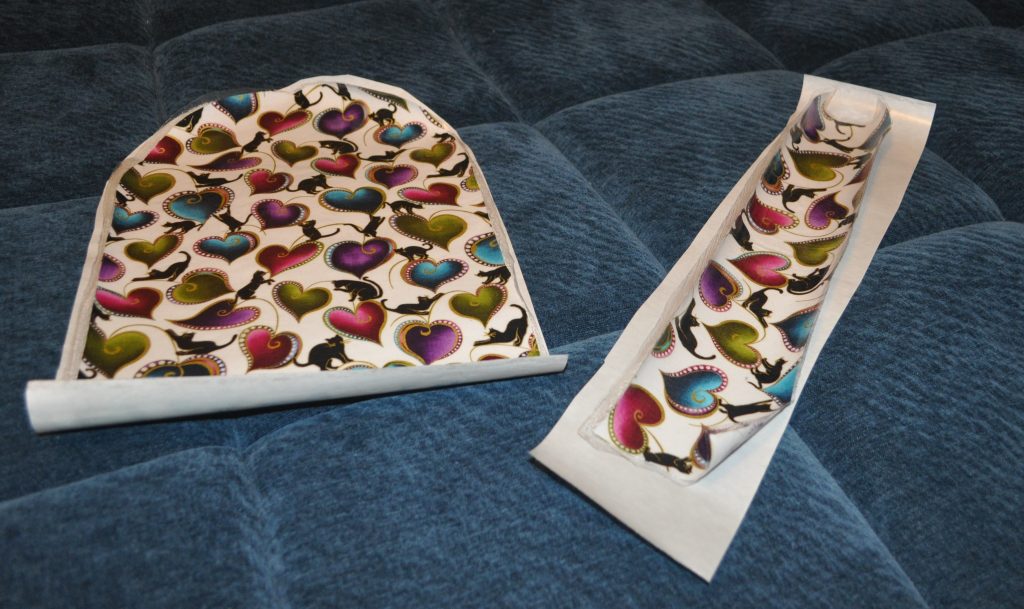 Tomorrow, I'll see how they sew!
Usage tip: when you've finished sewing your project and are ready to turn it, take a hair dryer to it. Warm it up a bit, then turn it the right way about. This gives you nicer corners and makes it easier to turn.