I am a member of multiple Teams, and I can remember that Keith posted something about creating a Q&A a few days ago … but I don't remember where he posted that message. I cannot reply to it until I find it. Search can help — chat conversations are searchable. But did he type QnA, Q&A, Q and A …
Instead of clicking through all of the channels in all of my Teams spaces trying to find a single post or working my way through the various ways of phrasing "questions and answers", I can look at my chat with Keith. Click the "Activity" tab. Now I am looking at things Keith has posted to our shared Teams spaces in the past two weeks.

The Team and channel into which the activity was posted is included before each message. An icon indicates if the activity is a reply to an existing thread or a message starting a new thread.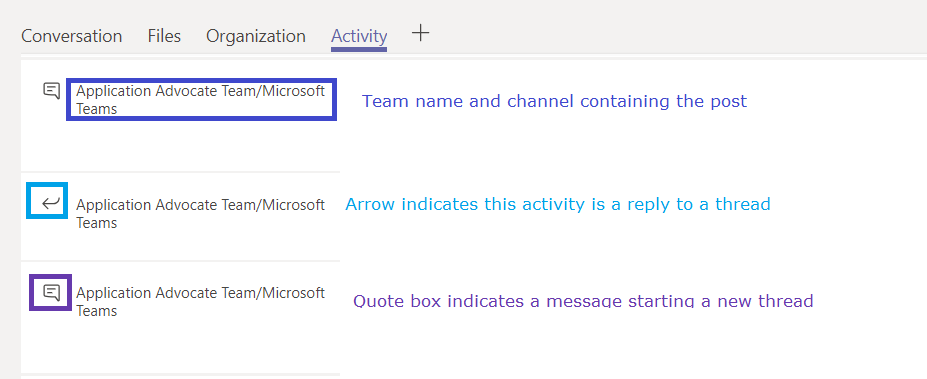 You can click on any entry in the activity log.

Your Teams client will show you the message in its context – you are in the correct Team and Channel, and the message is briefly highlighted. This makes replying to the message we found in the activity feed quite quick.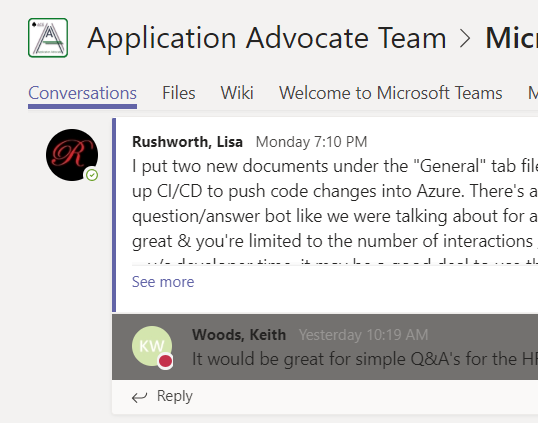 What if you've never chatted with the person? Start a new chat and type in their name. You don't have to send a message to them (although I could totally see myself writing "ignore this message – I just needed to get you listed in my recent conversations"), just click away and there will be a draft chat with them. Click on that draft chat, and you'll have an "Activity" tab.